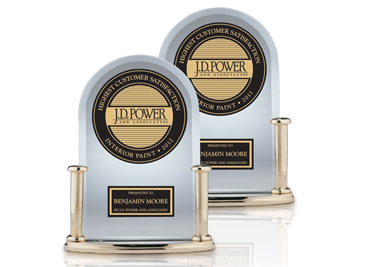 Benjamin Moore is pleased to announce that our brand ranks highest in customer satisfaction with interior paints and exterior stains, according to the J.D. Power 2016 Paint Satisfaction Study released on April 19, 2016.
In the interior paints category, Benjamin Moore topped competitors with a score of 836 on a 1,000-point scale, achieving the highest marks for application, durability and product offerings.
For exterior stains, Benjamin Moore scored 814 on a 1,000-point scale, exhibiting the highest results across all six study factors: application, durability, design guides & instructions, price, product offerings, and warranty/guarantee.
"Benjamin Moore is proud to be recognized as the highest-ranking customer satisfaction for our paints and stains," said Mike Searles, President and CEO of Benjamin Moore. "We are committed to developing the most innovative, best-performing coatings that meet the needs of customers, contractors and designers, and this honor not only indicates the superiority of our products in the marketplace, but also demonstrates that only Benjamin Moore can make the impossible possible."
Visit mybenjaminmoore.com for more information regarding the study, our national activation plans and resources available to leverage the award through your local marketing efforts.