When you want to wake up a tired bedroom scheme, a fresh coat of paint can put everything in a new light.
Wrap your bedroom in a luxurious coat of paint to give it—and you—a fresh perspective. To truly make your bedroom a place of your dreams, select colors that express your personal style. Benjamin Moore Natura® paints offer a vast range of color choices. Plus, you can rest easy knowing that this line is Certified asthma and allergy friendly™.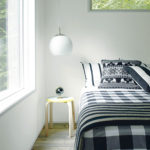 Mood Makers
Color has the power to change not only the look of a room, but also the ambiance. Do you need a boost to wake up or a cocoon to encourage relaxation? Before you decide on the best paint color for your bedroom, consider these basic facts: Warm colors add energy; cool hues create a more calming atmosphere. Saturated color will wrap you in a cozy environment, while pale shades conjure an airier feel.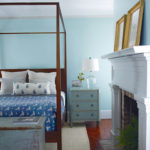 Foolproof Paint Picks
When selecting paint colors for the bedroom take your cues from the fabrics used on bedding and window treatments. If you're overwhelmed by color choices, try pulling a hue from a favorite fabric for a wall color that helps you achieve your design goals.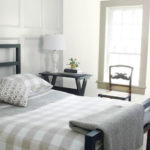 Quiet It Down
When selecting colors that will help you unwind, neutrals are a natural choice. But they need not be boring! Creamy whites, soft grays and warm umber hues can be used to create a quiet backdrop for colorful furnishings—perfect for those who like to switch up fabrics or accessories often.
The Fifth Wall
The bedroom ceiling is the last color you see before you close your eyes at night and the first one to greet you in the morning. Instead of opting for the standard white, how about picking a prettier paint color? Painting the ceiling a lighter shade of the wall color will make the room feel more open without the stark contrast. To find the perfect shade, consider Benjamin Moore Waterborne Ceiling Paint with its unique ultra-flat finish, offered in thousands of colors.
*The CERTIFIED ASTHMA & ALLERGY FRIENDLY Mark is a Registered Certification Mark of the ASTHMA AND ALLERGY FOUNDATION OF AMERICA and ALLERGY STANDARDS LTD.