Paint & Design Center
---
Mid-South Lumber & Supply is proud to be the first
Benjamin Moore Signature Store in the state of Kentucky.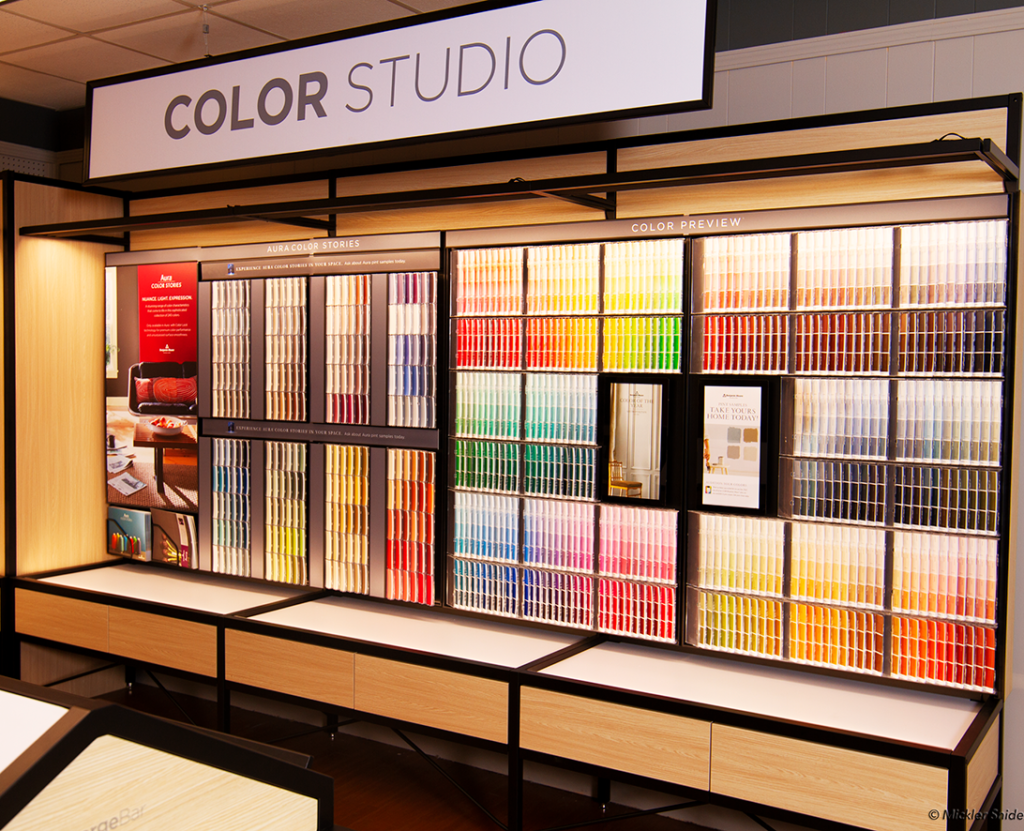 Few things can enliven a room as much as a fresh coat of paint. On the practical side, paint rejuvenates, protects and preserves your home. Much more than that, paint is one of the simplest and most flexible ways to lend your personal signature to any room. Has the exterior of your home taken a beating from Mother Nature? Whether you're looking for that perfect faux finish or premium exterior stain, we carry a broad line of Benjamin Moore paints in Bowling Green, KY to insure your project is a success.
Benjamin Moore TV
---
Benjaimin Moore Color of the Year 2021!


Benjamin Moore Color of the Year 2021, Aegean Teal 2136-40, is an intriguing blue-green paint color that creates natural harmony and invites us to reflect and reset. The twelve hues of the Color Trends 2021 palette, which includes Color of the Year Aegean Teal 2136-40, comforts as it uplifts. Rooted in the elegant, handspun textures of the home, this curated collection of colors reflects a grounded sensibility with warm, sunbaked hues that play to the senses

---

What's the secret to a perfectly stained deck?


Benjamin Moore's Sharon Grech guides us through the step-by-side process on how to stain your deck using Arborcoat® Premium Exterior Stain. From monitoring the moisture of your wood and comparing stains, to the tools you'll need for success (even why the weather matters most!) here's everything you need to know.

---

How Light Impacts Paint Color


Learn how lighting impacts paint color during different times of the day with Sharon Grech on Cityline. See how Sharon transforms a family room using Chelsea Gray HC-168 from the Benjamin Moore Historical Collection.

---

How to Paint Cabinets


Painting kitchen cabinets seems intimidating but with Benjamin Moore's ADVANCE® paint, it doesn't have to be. Learn how to paint cabinets in a quick, convenient and affordable way to give kitchens a newly remodeled look.

---

Quick Dry Times and Return to Service


COMMAND® is an extremely durable single-component, multi-substrate solution that helps you save time and tackle multiple jobs with confidence. This waterborne acrylic urethane enamel also provides tenacious adhesion and abrasion resistance.

---

Color Changing Ceiling Paint


Paint your ceiling with confidence! INSL-X® Color-Changing Ceiling Paint goes on pink and dries white, so you'll never have to wonder if you missed a spot.

---
Paints and Primers


Exterior or interior, flat, satin or gloss, we have the paint and primers for whatever the surface, whatever the problem. We have lots of decorating ideas to help inspire you and make planning more fun. Our experts will help you bring your ideas to life, with the confidence you need to get the job done right. Come choose from a wide array of colors and finishes by Benjamin Moore, Coronado Paint, Kilz and Rustoleum.

---

Stains and Sealers


Walkways, driveways, pool areas, decks and other outdoor woodwork represent a considerable investment. To protect them from continuous wear and tear, you'll need quality stains and sealers that deliver premium results and excellent durability. Wood floors and custom mouldings add natural richness, beauty and a warm charm to any interior. Ask about our premium interior stains, finishes and deck paints in Bowling Green, KY to insure your investment is well protected. Choose from our carefully selected brands: UGL, Sikkens, Kimeko and Benjamin Moore.




---

Paint Accessories


A good painter can make almost any trim carpenter's work look good; it's all in the caulk. Preparation is the key to getting that professional paint job look. Sanding, caulking, taping and even paint additives can make a significant difference in achieving that smooth seamless flow. Check out our extensive line of paint accessories including name brands such as 3M, UGL, DAP, GE and Zinsser.




---

Tools


It pays to have the right tools for the job. Brushes and rollers come in all shapes and sizes, natural and synthetic, each designed for a particular surface or type of paint being used. Let our experts guide you through the questions that must be answered to insure you choose the right tools for the job. We carry a wide variety of brushes, rollers and tape from Wooster, Benjamin Moore Paints and FrogTape.




---